Kenilworth Studio

This is our largest, highest and most spacious studio, that allows us to practice with plenty of elbow room (or swinging room) while hanging inside Crossfit Treehouse. It is recommended to bring a water bottle & yoga mat with you.
We offer both Aerial & Trapeze yoga classes, check out our schedule for full details. Studio is equipped with showers and plenty of free parking.
Reserve your spot online; beginners welcome.
Lyndhurst Studio
This is our most favored location due to it's beautiful decor and open concept.
Aerial level 2, Restorative Aerial and Lyra classes are offered once a week inside Studio 108. The numerous mirrors make it easy to make funny faces at your neighbor while hanging upside down. Free parking available along street.
Reserve your spot online.
Pop up locations
Each Pop up location varies, be sure to check your inbox (spam folder) for address and detailed information for parking and how to prepare for flight.
All flight equipment is provided for you, unless you specify that you'd like to set up your equipment. All Pop up locations are weather depending, be sure to check out vagaro.com/youmetrapeze for active status updates.
Recommend to reserve your spot online as pop up locations have limited spaces.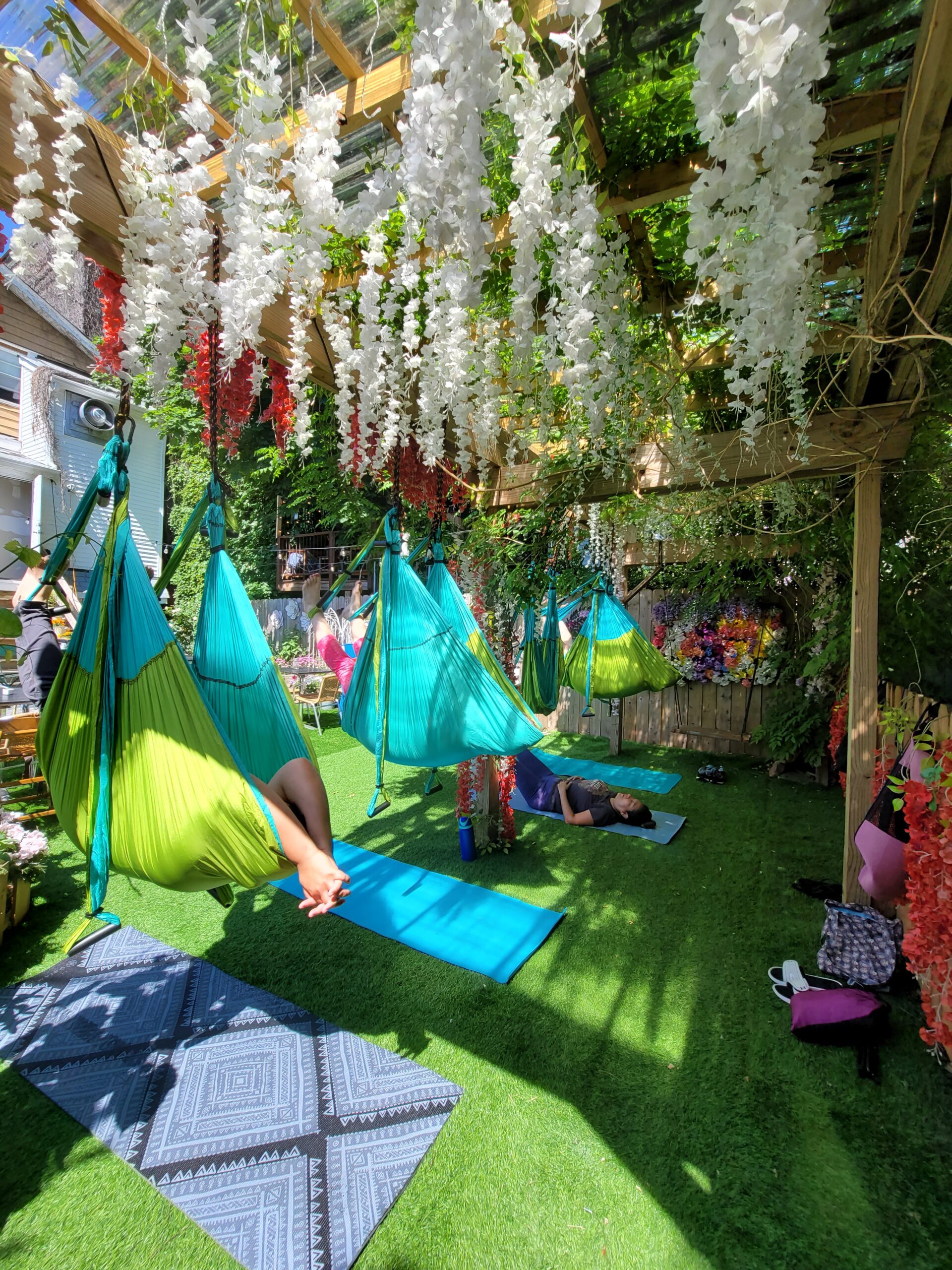 FALL FEARLESSLY FOR YOUR PRACTICE
Our latest pop-up location looks and feels like a New York City rooftop, however it's an NJ local at Kearny, inside Curiosity by Intrinsic.
This is our Outdoor Garden space that follows with freshly brewed coffee when the cafe opens after class.
Visit our schedule on Vagaro for more information. NOTE this class is solely for the FALL season and weather depending